Home > Corporate Information > Message from the Company President
Message from the Company President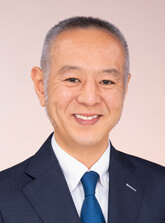 Thank you very much for choosing our products and services.
Our founder, Mr. Hiroshi Morishita has provide products contributing the health of people and a higher level of life ever since 1893, establishment year of company. During that time, our "Jintan silver pill" was created as general medicine with various efficacy and later it was loved by many peopled as mouth refresher. Hinted from the silver pill coating, we have invented our unique "seamless capsule technology". On top of that we also accumulate all years' herbal medicine researches and other original technologies. Throughout with these elements we are contributing to a wide range to business fields.
Healthcare business sector will continue to provide "extension of healthy life span" with reliable and safe, also unique feature products and services to all customers around the world. Capsule business sector will continue to provide new value solutions to all clients as a "Problem solving contract manufacturing company" with innovative technology.
Peoples' life style and value is continuously changing, now the convenience of life is dramatically increasing with various innovations. All of our company staff will endeavor with high effort spirit and speed to solve various issues in the society in order to become a needed company by the people.
Thank you for your continued guidance and encouragement.
Representative Director and President