Home > Corporate Information > Message from the Company President
Message from the Company President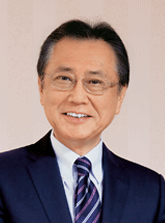 I would like to express our appreciation for all our customers' patronage of our products.
We started our business with silver granule "JINTAN" and body thermometers production sales in 1893.In recent years, we now conduct production sales in a wide variety of business fields; health foods and materials coming from our long years' herbal medicine research, also Medicare Brand medical supplies and medical equipment and generic medical supplies. Our capsule technology for liquid contents which was developed from silver granule "JINTAN" manufacturing is also evolving into bio and industrial use bead-shape seamless capsules.
In 2015, new health food market was created in Japan using "Food with Function Claims Label" rules by Ministry of Health, Labour and Welfare. For this new opportunity, we successfully introduced our new series of "HealthAid" into the market.In 2016, we will expand the lineup of this series product. Furthermore, we will tackle eagerly to new field and we are striving for next business development.
I thank you for your continuous support and encouragement in advance.
Representative Director and President